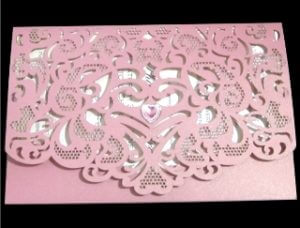 Our custom laser cut wedding cards are designed for your dream wedding. They are unique, elegant and cut from the high-quality paper of the colour of your choice. Your guests will love them!
The beautifully designed wedding cards are customizable. We print the blank inner sheets according to your taste and preference. But we create your desired wedding invitation, using varied decorations, fonts and colours. Once the preview is perfect and confirmed, then we print. This exchange can be done quickly online.
The floral pockets of all the wedding card designs are fixed. You cannot customize them. But you can select the colour of the paper you want.
How to Order Goleza Wedding Cards
To order the wedding cards, you may physically come to our business offices in Kampala – Uganda. There it takes a short time. You may also make your order online. The whole process of designing the cards, according to your specifications, until you finally confirm the design may take 2 to 3 days. It's however advisable to book us early enough for proper service delivery.
Gallery – Wedding Card Designs
Additional Information on Wedding Invitation Cards