Laser photo engraving is so difficult that most engraving shops do not offer it as a service. Why? It requires the right technology, software and expertise.
At Goleza Designers Ltd, we are thankful that we've got all that it necessitates producing engraved photographs of superb quality on a variety of common materials with confidence.
With our high-quality laser photo engraving services, you can now have your photographs of great memories of your childhood, school days, weddings and so many other important events of your life permanently laser engraved on materials like marble, granite, wood, coated metals, acrylic, leather and so much more. Sure! You can also remember the good times and great people in your life.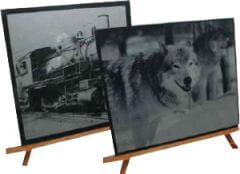 A photo of a loved one, permanently laser engraved on marble, has tremendous value for you and many other people. It is worth a thousand words. Most importantly, it lasts forever. No wearing out as is the case with photos printed on paper. This helps so much in preserving your old or new photographs from generation to generation.
For instance, if you laser-engrave a wedding photo and give it to a newlywed couple as a gift at their wedding reception, you will have given to that couple a very valuable and memorable present in their life. They will always connect with you throughout their life when they look at it in their sitting room.
How To Get Your Photo Engraved
To have your photographs engraved is simple. You just come with your photographs (either as a soft copy or as hard copy), select the material and size for your project and the rest is done by us. Within a short time, your photo is ready.
For more information on laser photo engraving, please get in touch with us through the contacts on our Contacts Page. We will serve you to your satisfaction.
Further Readings on Laser Photo Engraving