Wish that pupil/student that is sitting or about to sit their exams success by sending them laser cut success cards from our collection of cards with beautiful refreshing designs. They will feel so happy and determined to pass the exams.
We also have laser cut success cards designed to congratulate your friend, family member, colleague and loved one on passing their exams. Send them these cards! They will feel so happy and consider you being part of them in celebrating their success.
These cards are customizable. You can order them in the paper color, size, design and with messages of your preference.
Gallery – Success Card Designs
Additional Information on Success Cards
A Wooden Exam Success Card Speaks a Thousand Words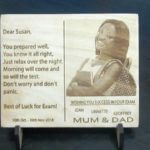 In Uganda and many other countries, October and November are months in which students in candidate classes sit their final exams. During this period, everyone with a child, relative or friend in a candidate class considers wishing them good luck. Read more…
Exam Success Cards: Discover Best Cards for Good Luck Exam Wishes!
Goleza laser-cut exam success cards are one of the most unique and attractive cards in Uganda. Digitally printed cards are everywhere on the market. But if you want to surprise your daughters, sons, sisters, brothers, friends, colleagues, boyfriend or girlfriend. Read more…