Our wooden laser engraved custom pens offer a sophisticated look. These laser engraved custom pens are made from high-quality woods that laser dark. Each pen comes with an ink cartridge and has a ceramic ball for smooth writing.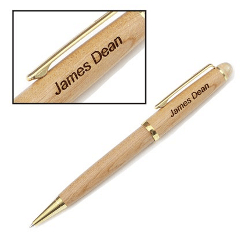 These stylish wooden pens are engraved to create a dark engraving that is crystal clear and easy to read. They have a higher perceived value and are very elegant. When given to anyone, they are more likely to be kept by the recipients.
Laser engraved custom pens are great for giving out as gifts to your friends, colleagues and loved ones on any special occasions like birthdays, graduation, weddings, anniversaries, farewell, etc. Just customize them with a name or message. Whoever receives them as a gift will be happy. Laser engraved pens are surely memorable.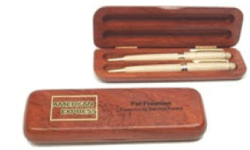 Our lovely laser engraved custom pens can be presented to you in solid wood pen cases, which we can personalize with your text and images to make them unique. We have a matching single pen and two-pen cases.
To order for these laser engraved pens is easy. You can make your order online. Alternatively, you can come to our shop (refer to contacts). After a few minutes allowed to personalize your pen, you will be able to go away with it.