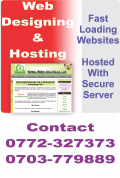 If you are looking for professionally designed text adverts and ad banners to advertise your products and services on your website or blog, Goleza Designers Limited offers professional ad designing services at affordable prices in less than 24 hours.
We design adverts that generate leads and effectively improve the image of your business as well. We design both animated and static adverts with winning headlines to capture the attention of your potential customers just in seconds and with bright colours that effectively compel your customers to click on them.
We put adverts mainly on WordPress and Blogger Blogs. We also put on websites that were designed by Goleza Designers Ltd and for which we have the source codes and files.
How To Order For Your Advert
To get your advert designed and installed on your website, just visit us at our office in Kampala (see Contacts) to make your order. You can also reach us by telephone or by email.