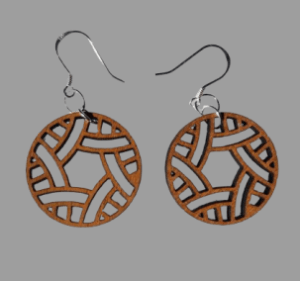 Laser-cut wooden earrings are new products in Uganda. They are unique both in design and quality and so beautiful and eco-friendly. We make them mainly from
wood veneer
and acrylic, in images depicting many living and non-living things.
These wooden earrings are an excellent addition to any modern lady's jewellery. You can wear them on all occasions and are available in different colours and sizes of your choice.
Animal Earrings

We share with you a variety of high-quality laser cut earrings depicting images of animals found in Uganda and across the world.
Botanical Earrings

Our attractive laser-cut earrings in the botanical category are made from natural and attractive designs depicting images of various plants found on our planet.
Wood Birds Earrings

We bring to you a wide range of both domestic and wild bird species found in Uganda and other places through our nice wooden laser-cut bird earrings.
Design Earrings

This design category comprises some of our unique and best-selling laser cut earrings creatively designed to give our customers value for their money.
Aquatic Earrings

We also have available laser-cut aquatic earrings that depict creatures we find in the seas, oceans, lakes and rivers.
Geometric Earrings

Find laser-cut earrings from the Goleza  best-selling creative graphic designs consisting of various geometric shapes
Religious Earrings

Are you a Catholic, Moslem or Protestant? Laser-cut earrings depicting images of your faith could be ideal for the different religious occasions you attend.
Insect Earrings

Insect lovers can also find beautiful laser-cut insect earrings, which include both edible and non-edible insects found in Uganda and other countries.
Sorry, we are not blocking you but navigation links on this page are not currently live because we're still developing them. We shall gradually add pages and pertinent products to our online store as well. Thank you for visiting us.