Dear Customer,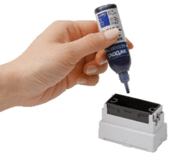 Thank you for purchasing a stamp from Goleza Designers. Our stamps are made to the highest possible standards and are renowned for their quality and reliability.
The stamp you have bought will last up to 50,000 impressions with proper re-inking. To ensure quality work, please always buy the recommended Brother Refill Ink obtainable from Goleza Designers.
Follow the instructions below to refill your stamp. If the stamp is faint or incomplete, use the ink bottle (sold separately) to refill the stamp.
Remove the grip from the stamp.


Use the ink bottle to add not more than seven drops of ink to each refill ink hole in the stamp.
Be extremely careful when adding ink. Do not use ink other than that specified, otherwise, the stamp may be damaged. If too much ink is added, it may start leaking from the stamp's surface. In this case, make a test stamp on scrap paper to remove any excess ink.
Put the grip back on the stamp.
Immediately after refilling the ink, keep the stamp facing down until the ink begins to flow from the stamp. After refilling the ink, be sure to put the cap back on the ink refill bottle.
If by mistake ink powers outside the holes, make sure you use a soft tissue(e.g. toilet paper) to clean the stamp properly before putting back the grip. This will keep the stamp clean throughout its lifespan.