Our laser-cut business cardholders are an innovation in Uganda. They are unique both in design and quality. We make them from wood sheets of 3 mm thick, which we cut from local hardwood. Additionally, we give them a likeable finish without changing the natural colour of the wood.
We make two types of cardholders: the patterned business cardholders and the living hinge business cardholders.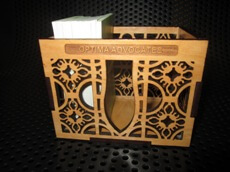 We make two types of business cardholders: the patterned cardholders and the living hinge business cardholders.
Patterned Business Cardholders
We have created hundreds of patterns from which we make several different products, including these cardholders. We develop more and more patterns to meet our customers' varying needs. Our standard size has a length of 10.2 cm, a width of 7 cm and a height of 7.5 cm. They have a capacity of over 200 business cards. We can also make bigger ones on order. These patterned office accessories are good and user friendly. You can hook them on a wall in your office if you have limited space. You can also put them on a table. 
Living Hinge Business Cardholder
We make the living hinge business cardholders from wood sheets, which we cut to make the wood flexible and easy to bend. They are unique, attractive and commensurate with the image of your business or organization. They measure 13.2 cm long, 10 cm wide and 9.5 cm high.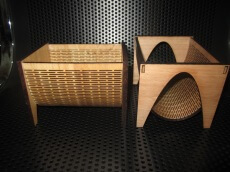 These beautifully designed cardholders are exemplary for office accessories. They can make it easy to keep your cards properly and accessible. They are suitable for the cards you give out to your visitors or the people you encounter when doing your business in your office.
To buy laser-cut business cardholders, you can visit our shop personally and make your order. Big orders attract good discounts.
Alternatively, you can make your order online. We process online orders promptly within 1 to 2 business days.
Additional Information on Business Cardholders
Living Hinge Curved Business Card Holders, Unique Office Accessories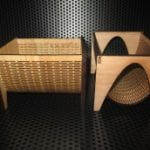 The living hinge curved business card holders are new on the market in Uganda. These are business card holders we cut out of wood. We use wood sheets of 3 mm and 6 mm thick. The 3 mm wood sheets are for laser-cutting a living hinge, which we curve gently to create the cardholders. Read more…
Patterned Business Card Holders That Make a Difference in your Office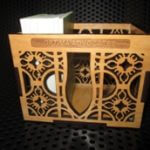 Business card holders, laser-cut from wood, are an innovation in Uganda.  Yes, they are. Though the number of laser engravers is increasing, creativity and ability to use the laser effectively is still lacking in Uganda. Read more…