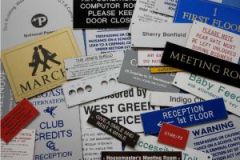 We make custom laser engraved name tags and badges that you can use in your business to make it easy for your customers to identify employees. Schools can also use them to identify students with leadership roles like prefects and class monitors. Alternatively, use these high-quality laser engraved name tags at corporate gatherings to make everyone else know who is to get to.
Our laser engraved name tags are produced using the latest modern CO2 laser technology that produces the sharpest texts and high-quality images. We create truly unique tags and badges to represent your business, organisation or institution.
You can have your name tags laser engraved from either coloured acrylic or wood with a wide range of quality paint finishes to make them unique and so appealing. We make them in four different shapes: rectangle, oval, round and square shapes.
Fasteners for Laser Engraved Name Tags
Our name tags and badges are available with a choice of fasteners or clips, including:
Standard Pin Clips

The commonest clips used by the majority of our customers.
Bulldog Clips

They are perfect and best suited to wearing shirt pockets.
Tie Clips

They are the best choice for wearing on a tie and make you look cute.
Magnetic Clips

These let you attach your tags & badges to any part of your clothing without piercing it.
Additional Information on Laser Engraved Name Badges
Reusable Name Tags Are Perfect in High Staff Turnover Environments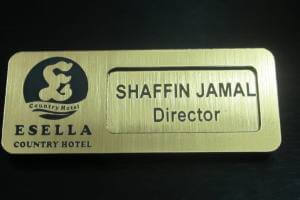 Many times, we've received clients looking for name tags with a reusable option. These are mostly companies with high employee turnover and are tired of spending vast amounts of money on buying name tags every year. Read more…
How Important are Company Name Tags to your Business?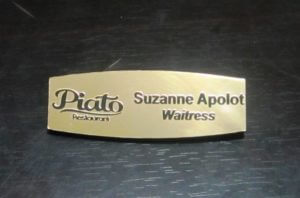 You've seen company name tags worn by employees in customer service businesses like supermarkets, restaurants, hotel and bars. Do you know their importance? Well, everyone can quickly tell that they are a means of displaying the wearer's name for others to see. Read more…
Name Tag Shape – Select a Shape That Blends With Your Brand!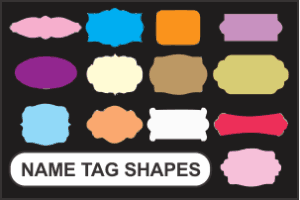 You cannot overlook the importance of company name tags in customer service businesses. When ordering for name badges, it's good to focus on a name tag shape that will draw your customers' attention to your company. Did you know that? Read more…