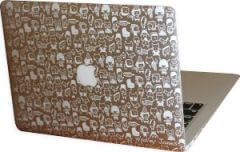 Have you ever thought about laser laptop engraving? Well, now you can give your laptop the custom touch in Uganda only at Goleza Designers Ltd. After seeing your new customized laptop, your friends and colleagues will be lining up to have theirs done too.
Laser laptop engraving serves as an excellent theft deterrent. If you have ever lost a laptop, you know what we're talking about. And if you have never lost one to thieves, don't wait for the misfortune to happen. Come to us! We have the solution!
It's said that every 53 seconds, a laptop is stolen worldwide. In Uganda, laptops are stolen even in offices every day. Such thefts can be reduced drastically by laser engraving your laptops. It takes only a few minutes to have your laptop customized. And it costs less than 2% of the price of the new computer.
Laptop engraving is done in various ways. You can personalize your laptop with your own design, picture, logo or text. Different materials produce different results. Just get in touch with us to ascertain if your laptop can be engraved through our Contacts.
Additional Information on Laptop Engraving Services
Laptop Engraving, an Excellent Theft Deterrent

Laptop engraving is an excellent theft deterrent. Laptops are stolen now and again. Thugs pick them from places like cars, offices and homes. They also forcefully grab them from people walking. Believe me or not, losing a laptop is a traumatising experience. Read more.