Our laser-cut Christmas cards are a perfect gift with a personal touch to your loved ones during the festive season. They are unique and carry the right messages for Christmas celebrations.
These cards are always readily available during the Christmas season. We sell them in packs of 5, put in white envelopes.
We also make customized laser cut Christmas cards for institutions, organisations, private businesses and individuals at discounted prices. To order for such cards, you can come personally to our office. Alternatively, make your order online. We shall equally serve you to your satisfaction.
Which Type Of Laser Cut Custom Signage Do We Create?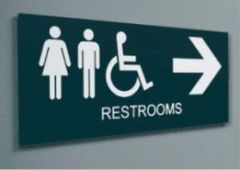 We create a wide variety of signage, including and not limited to:
Letters and Logos
Dimensional Letters
Labels and Decals
Letters And Logos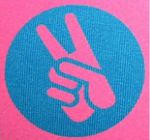 Do you have an intricate logo you want to engrave and use it in your business or organisation? We can engrave and cut that logo and letters in seconds from coloured acrylic, wood and plastic, providing a truly custom look to any sign.
We give a professional finish to your signs in the colours and font of your choice. Our logos and letters are so appealing to anyone and are ideal for improving your brand image.
Dimensional Letters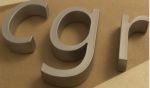 Laser-cut dimensional letters are a great way to convey your message and to promote your brand. With our laser system, we can quickly cut 3D letters from acrylic, wood and plastics with the quality that is unsurpassed in the industry.
With a wide range of paint finishes, we can create elegant and visually striking effects for your dimensional letters and logos that you can integrate into your laser cut custom signage for both interior and exterior use.
Labels and Decals
Our laser-cut custom ID Labels and Bar Code Labels are used to mark and identify fixed assets in institutions and businesses like schools, NGOs, local governments, hospitals, hotels, etc… Assets like furniture and computers should be clearly identified with Asset ID Labels with or without Bar Codes.
At Goleza Designers Ltd, we offer a large selection of Bar Code Labels, including tamper-resistant labels, that are ideal for effectively fixed asset identification, security control and inventory management.
For more information on laser cut custom signage, please get in touch with us through our contacts. We'll serve you to your satisfaction.
Visit us and get value for your money!
Additional Information on Custom Signage
Acrylic Office Signs With Standoffs Created to Leave Lasting Impressions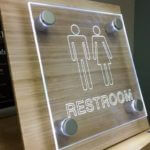 In most offices you will visit in Uganda, you will find simple engraved signs mounted either on a door or wall with glue or screws. We engrave these simple signs from the acrylic material with the lettering sprayed with colour paint. Read more…
Borehole Labels Made from Durablack Aluminum are Unbeatable in Quality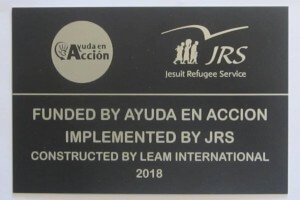 Since we started our engraving business, we have received several orders for making borehole labels. In many cases, these are orders from borehole construction companies and NGOs that sponsor the construction of boreholes in rural areas with donor funds. Read more…
Business Signage Promote Marketing Messages For Your Business!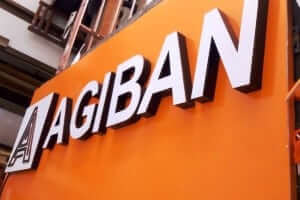 No business can prosper without marketing. Marketing is all about communicating your marketing messages to your target customers. Business signage is one of the ways you can promote your marketing messages. Read more…