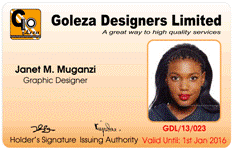 PVC Plastic Identity Cards printed on high-quality plain White, Silver and Gold PVC material are made at Goleza Designers Limited. They are protected from erasure and fading with a waterproof outer coating or laminate.
Goleza plastic identity cards are original (non-counterfeit), durable with a one-year warranty, and produced with immaculate and unique designs to suit your company's corporate image.
At Goleza Designers Ltd, we guarantee to design for you IDs with non-fading photos and other data images, including not easily identifiable security features to curb possible forgeries.
The cards may appear on both single and dual sides depending on the customer´s choice and budget. Double-sided cards cost a little more than single-sided ones.
Card Accessories
You can make orders for your identity cards with the following card accessories available at Goleza Designers Ltd.
1. Card Holders
2. Card Strings
3. Card Reels
How To Order For IDs.
To order cards, visit our shop in Kampala with your card details.
We encourage our customers to order online through our contacts. It's much easier, cost-effective and convenient.
When the design is finally agreed upon, we print samples and deliver them to the customer for final approval.
Plastic Identity Card Samples
Additional Information on Plastic Identity Cards
Plastic Identity Cards – Discover Professional Makers of Identification Cards in Uganda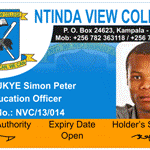 Plastic identity cards are identification cards made from a PVC material. PVC is an abbreviation for polyvinyl chloride, which is a lightweight synthetic plastic material, which people worldwide use in many applications. Read more…