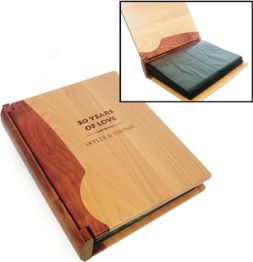 Are you looking for personalised wedding gifts to give to your friends? Our laser engraved wood photo albums are great memorable gifts to whoever receives them. They are cute, unique and custom-made with photos, designs or text of your choice.
These personalised wood photo albums are ideal for protecting your photographs of great memories of your life. Why? It's because of their durability. They hold up to two hundred 4×6 inch photos and measure 7-5/8″ by 9-1/8 by 2-1/4″. They include fixed photo insert pages for total convenience.
We make our laser engraved wood photo albums from high-quality wood, which reveals a rich brown tone for excellent contrast when you etch them. They are appropriate for personalised engraving and are a fantastic gift for anyone on any special occasion.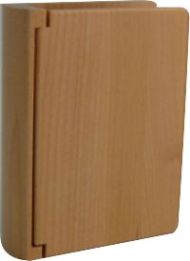 To personalise your album, we can engrave specific names, dates and places to produce a unique photo album that makes a perfect gift for your loved ones, friends, colleagues or family members on their special occasions.
We can also add unique designs and photographs of your gift's recipients to make it memorable, valuable and stand out from the crowd.
Ordering for these wood photo albums is easy. You can make your order online and after which you send us immediately the details you want to appear on the album through any of our contacts. We have fast service. We commit ourselves to dispatch to you the finished product within 48 hours.
Alternatively, you can come to our shop to make your order. We offer one-day service on all personalised laser engraved photo albums. But due to high demand for our services, we always appeal to our clients to book early to avoid unnecessary delays.