The animal wall art category is one of the best-selling
wall hangings
Goleza Designers
produces. It consists of laser-cut animal wall art consists of both wild and domesticated animals, carnivores and herbivores. Animals are liked in every part of the world. But some animals are getting extinct caused by factors attributable to human activity.
Animal wall art pieces are a good addition to your wall art. They are precisely cut out of wood to give the true image of your loved animal.
Human beings are associated with animals worldwide. Some use them, especially in Africa and particularly in Uganda, as their clan totems. Here, we can cut for you a nice family totem to hang in your home.
Gallery – Animal Wall Designs Designs
Additional Information on Animal Wall Art
Wooden Wall Decor – Add Visual Interest to your Home with 3D Effect Wall Art!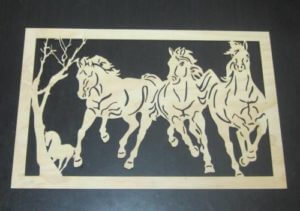 We are happy to have pioneered in the production of laser-cut wooden wall decor onto the Ugandan market. These laser-cut art pieces are unique in design with a stunningly beautiful look because of their 3D effect. Read more…