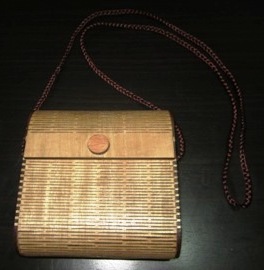 Our laser-cut wood bags are a new product in Uganda made by Goleza Designers Ltd (GDL). They're unique, beautiful and stylish both in design and quality. We make them from 3 mm wood sheets of local hardwood veneer, including and not limited to Mahogany, Nkalati, Nkago, Lusambya, Musizi, Mvule and Nzingu.
Our trendy laser-cut wood bags measure 13.97 cm long with a width of 5.4 cm and a height of 14.3 cm. They are among our living hinge product line. We fix the wood pieces together with transparent adhesive. And we use quality wood finishes to make them look elegant and smooth.
These wooden handbags or purses are suitable for all occasions. They stand out and are very appealing.
These wooden bags also make excellent presents to your friends and relatives as memorable gifts. They make a unique gift idea. Besides, you can also customize them with texts and graphics to suit your occasion. 
How to Order Laser-cut Wooden Bags
To buy these laser-cut wood bags, you can come personally to our shop. We sell to individuals and retailers. We also sell them online. For more information, get in touch through our contacts.
How to Handle Wood Bags
We design these laser-cut wood bags to last. But wood, unlike leather, needs to be handled with extra care to guarantee durability. The following are, therefore, essential points to note:
Avoid throwing your wood handbag down because it may break.

Do not press heavy things on it to avoid damaging it.

Avoid knocking it against hard items.

Never put things beyond their capacity. Wood is not elastic.

Avoid leaving it with children. They can destroy it if they are not careful.
Additional Information on Wood Bags
Wood Bags for Ladies – Unique Products Admired By Any Lady of Fashion
Wood bags are rare on the Ugandan market. But in other countries, they are so much liked because of their uniqueness. Wood is a fantastic creation from which we can make excellent products. And I am proud to introduce yet another unique product.  Read more…