Laptop Engraving, an Excellent Theft Deterrent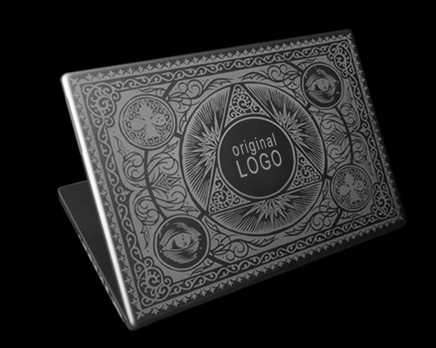 Laptop engraving is an excellent theft deterrent. Laptops are stolen every now and again. Thugs pick them from places like cars, offices and homes. They also forcefully grab them from people walking. Believe me or not, losing a laptop is a traumatising experience.
When thugs steal laptops, they take them to people's shops for reselling. The majority of people who steal computers sell them in electronics shops. A few use them. Surprisingly, you can even find yourself buying the same laptop unknowingly.  Why?  All laptops of the same brand are similar. For instance, all Dell computers look alike. You can only differentiate them by a serial number hidden at the bottom. Besides, most people don't bother to keep a record of that. Even if you did, will you go checking in every shop?
I have seen students in universities selling laptops bought by their parents. If you are a parent, the solution to that is laptop engraving. Engrave it before giving it to your child.
In big organisations or institutions, poor workers steal them for personal use. Others exchange good computers with bad ones. Why? They are not marked. So it's hard to know. The medicine to that is to think laptop engraving.
Laptop Engraving Services Offered by Goleza Designers
At Goleza Designers Ltd, we offer laptop engraving services at very affordable prices. The cost depends on the size of the area you want to be engraved. It also depends on the layout you want to put on it. The charge should not scare you at all. It's just not more than 2% of the price of a new computer.
Our laptop engraving services are the best in Uganda. We use modern laser engraving technology from the USA to create a permanent crystal clear mark on your computer that appeals to anyone. It's irremovable removed. It's so visible even from at a distance and looks beautiful.
We do laptop engraving in various ways. You can customise your laptop with your design, company logo, clipart and text. Different materials produce different results, and as professional engravers, we always deliver the best results for our customers.
What are the advantages of laser laptop engraving?
Theft-deterrent. As explained above, laptop engraving stops thieves from picking your computer. When they steal it, they cannot sell it again. It's hard to use them in public places. Why? It's because they can never remove the engraved mark. It's permanent. The chances of getting the thief are therefore high.
Customisation. Laser laptop engraving enables you to customise or personalise your computer. You make it unique and different from others by giving it a custom touch. It, therefore, becomes easy to identify it. We can also engrave laptops from organisations or institutions with hidden barcodes for better inventory management.
Beauty. Laser engraved laptops look so beautiful. They look attractive and refreshing.
The disadvantage of laptop engraving
It's had to sell an engraved laptop again. If you intend to resell it after some time, the chances of buying it with a personalised mark are minimal. Sometimes, organisations dispose of used items, and this can be pretty hard with engraved computers.
Finally, I would like to remind you that you do not wait for the misfortune of losing your laptop to thieves to happen to you. Customise your computer! Think laptop engraving now and do it with professionals for better results.
Related articles across the web

Hello! My name is Charles Kiyimba, a creative engraver, a professional teacher, a passionate blogger, a confident graphic/web designer and the founder of Goleza Designers Ltd, an engraving business that turns images into real products. Through my hands-on experience, I share with you free helpful information on our products and services, business, marketing and personal development. Always dive in for more!
Our Contacts
Equatorial Shopping Mall, Suite 607
Plot 37/39, William Street, Kampala
Call: +256 - 703 - 779 889
WhatsApp: +256 - 772 - 327373
Email: info@golaserengraving.com