Wood Handle Rubber Stamps – Discover The Hidden Secrets About Wood Stamps!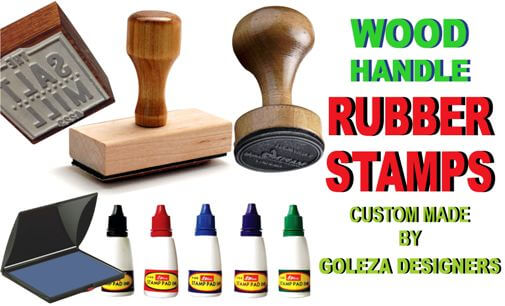 Wood handle rubber stamps are traditional stamps with a solid wood mount. These wood mounts are custom cut to fit the size of your stamp text or artwork.  In Uganda, wood handle rubber stamps are favourite among the local administrative units, commonly known as Local Councils (LCs). As a result, most people refer to them as LC stamps.
The corporate world nowadays tends to overlook them. People think they are out of fashion and not commensurate with their brand image. But is it true that they are outdated? We also had the same mindset before we discovered the hidden secrets about them.
We conceived the idea of establishing an engraving business when we were in northern Uganda. While there, we noticed that 90% of the offices were using wood handle rubber stamps. Worse still, the stamp impressions were very poor. It's why we started Goleza Designers to make quality stamps using modern technology initially. We introduced onto the market Brother Pre-inked Stamps, and everyone liked them. They were much better than the wood handle rubber stamps.
Although the pre-inked stamps became popular, we realised later that the traditional wood handle rubber stamps were good stamps too. And we could not ignore them entirely due to their advantages over the modern rubber stamps.
Advantages of Wood Handle Rubber Stamps
Cost-effectiveness
Wood handle rubber stamps are cheap. In Uganda, you can have a rubber stamp at as low as Shs 10,000/=, depending on the technology used to make it and location. That's equivalent to US 2.80 dollars. Besides, they are easy to maintain. The only accessories you need for your stamp are the ink and pad.
Durability
If you are looking for stamps you will use for years; your first consideration should be on wood handle rubber stamps. You can use it until you get tired of it. But to ensure durability, you must cut it from good rubber that doesn't get worn out.
User-friendliness
Any person can use wood handle stamps without any training. You place it on the ink pad and then on a paper to create an impression. No struggle. Everyone can easily do that.
Availability
Wood handle rubber stamps are available everywhere. Stamp cutters are available in many places. Any good carpenter can make for you a wood handle mount for your rubber stamp.
Ability to make large stamps
Last but not least, if you want to make large stamps, wood handle rubber stamps are the only ones that can serve that purpose. You can create a stamp design of any size you want and fix it on a wood mount custom made to the size of the stamp design.
4 Reasons People Love Goleza Wood Handle Rubber Stamps
First, the cutting is superb. We cut the stamps using modern computerised technology. Most importantly, we produce the most accurate, precise and deep engraving in Uganda. We can put any design and text of any font type on your stamp.
Secondly, the speed at which we accomplish the jobs is unbeatable. If you are making a large number of wood handle rubber stamps, we can do it in the shortest possible time.
Thirdly, our wood mounts have beautiful designs that blend with your business image. We make them in 4 different shapes: round, oval, square and rectangle. They are so smooth with an elegant appearance.
Lastly, our wood handle rubbers stamps are relatively cheap. They are the same price or even less expensive than the ones you find on the streets. Besides, we cut them using modern technology, not by hand.
Do you have any question? Let us hear from you.

Hello! My name is Charles Kiyimba, a creative engraver, a professional teacher, a passionate blogger, a confident graphic/web designer and the founder of Goleza Designers Ltd, an engraving business that turns images into real products. Through my hands-on experience, I share with you free helpful information on our products and services, business, marketing and personal development. Always dive in for more!
Our Contacts
Equatorial Shopping Mall, Suite 607
Plot 37/39, William Street, Kampala
Call: +256 - 703 - 779 889
WhatsApp: +256 - 772 - 327373
Email: info@golaserengraving.com