Rubber Stamp Business – Start Small From Home and Grow Big Gradually!
Are you looking for a business idea to make money? Starting a rubber stamp business is a good idea. There is always a market for office stamps. Besides, the profit margin is high for quality stamps. Office stamps are still on high demand in schools, hospitals, public offices and private offices. You can run a stamp-making business on a full-time basis. You can also operate it as a part-time job to earn extra income.
Do not underrate the rubber stamp making business. It has led to the survival of many Ugandans across the country. For instance, when you move around the streets of Kampala, you will see stamp cutters everywhere. Do you know that they make money? Yes, they do, yet they use traditional methods to cut stamps. Most of them cut with small sharp tools, and the process takes longer. Others get orders and run to established engravers to accomplish the jobs quickly. They only bring you a finished product.
The rubber stamp business I am discussing in this post is a modern business. I don't mean the veranda stamp cutting business. No, please! I mean a company you set up and use advanced technology to make stamps for your clients. In this business, you will need a computer, designing software and a stamp making machine. With this modern technology, you can handle big orders of over 100 rubber stamps in a short time. Besides, the quality of your work will be unmatchable.
Starting a rubber stamp business is not hard. As regards startup capital, you only need to have a modern stamp-making machine, raw materials and some skills in designing and marketing.
Initially, you don't need to hire any business space if your budget is small. It's advisable to work from home. I advocate for operating your rubber stamp business from home as a beginner because hiring business space is expensive in Uganda. It's cheaper and convenient to work first from home. You can always pick your orders, design the stamps from your home and deliver them to your customers. After establishing a strong foundation for your business, you can then think about hiring a business space in a good location.
How can you start a rubber stamp business?
If you are determined to venture into a rubber stamp business, the following tips are useful. Use them to start and grow a profitable business.
#1- Do a market research
Before you start your rubber stamp business, it's essential to make market research. You need to discover through your study what your target market wants. The feedback you get helps choose the kind of equipment and materials to buy. It helps you to take advantage of the business gaps and to do a profitable business.
#2- Make a business plan
Like in any other companies, make a business plan for your rubber stamp business! The business plan guides you to walk your road to success. Make a simple and comprehensive plan! Focus on critical areas like the nature of the business, the products, the market analysis, the marketing plan, the operational plan, financial projections and financial requirements. Under the nature of the business, you should include a mission statement, both short and long term objectives, the legal structure of your business, staff and professional advisors if any.
Under products, give a brief explanation of how you will produce your products. Include your unique selling proposition, sales materials, special offers and suppliers.
Under market analysis, you should talk about your target market, your market positioning, competition, the number of clients and client response.
Your marketing plan should focus mainly on your anticipated demand, marketing methods, how to attract your clients and public relations.
You should include in your operational plan aspects like the location of your business, client support, service plan, distribution methods, job responsibilities, samples and packaging.
Your business plan should entail financial projections for at least three years. Such records should include mainly profit and loss, cash flow and balance sheet projections.
#3- Acquire some basics in graphic designing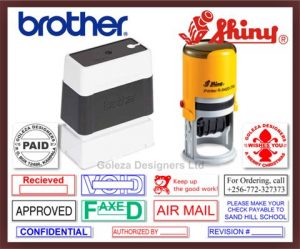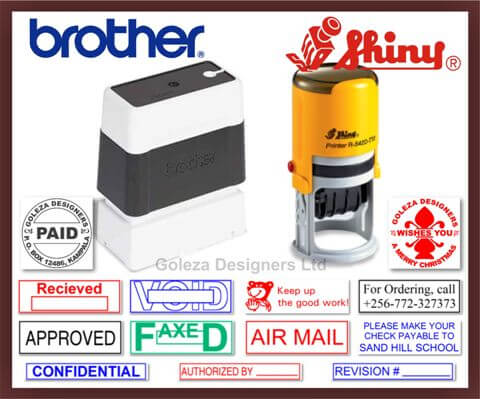 Though graphic designing is not a must-have skill in a rubber stamp business, it's an added advantage. Knowledge in graphic designing is useful in coming up with different stamp designs. Besides, if you can do it yourself, you cut down on the cost of hiring a graphic designer.
If you don't have designing skills, you can teach yourself. Just get designing software like CorelDraw and start learning slowly. Within no time, you will be an expert. That's how we also started. We are now able to design everything we produce in our business.
#4- Look for a modern stamp-making machine
There are many stamp-making machines on the market. My advice is that you select equipment with which you will best meet the needs of your targeted customers. Your rubber stamp business will prosper if you use modern technology.
#5- Buy quality raw materials
The raw materials must be genuine and of high quality. Your business will collapse within the first months if you use inferior quality materials. Remember that your customers want stamps that can maintain their right business image.
#6- Market your rubber stamp business.
You must market to grow your business. Use word of mouth to reach your acquaintances. There are also other forms of advertising you can use. For instance, you can advertise your rubber stamp business in newspapers, on radios and televisions. You can also give out business cards and brochures to potential customers.
#7- Establish your online presence
Use the internet for marketing your stamp business. In this era of the internet, many people can easily place an order on the internet. Have a website designed for your rubber stamp business. If you cannot afford a website yet, use social media networks like Facebook for marketing your stamps. Social media is an excellent marketing method people use nowadays.
#8- Keep proper records
Keeping records is key to the success of your business. You need to track your profits, losses, stock, cash flow, debtors, creditors and business value. If you don't keep records, you will find it challenging to manage and grow your rubber stamp business.
#9- Legalize your business
Before you start your rubber stamp business, it's essential you understand the legal environment in which you operate in your country. If you don't, you risk losing your business and getting caught up legally into problems. Make sure you register your business!
#10- Be credible and organised
Credibility protects you. Always be honest in what you do. Never cheat your customers! Never tell lies to your clients!
Apart from building a trusting relationship with your customers, you should also get organised in your rubber stamp business. For instance, avoid making careless mistakes on your stamps. Before you print the stamps, make sure you check with your clients to correct the spellings.
If you need further information concerning starting your own rubber stamp business, use the comments section below to leave your question.

Hello! My name is Charles Kiyimba, a creative engraver, a professional teacher, a passionate blogger, a confident graphic/web designer and the founder of Goleza Designers Ltd, an engraving business that turns images into real products. Through my hands-on experience, I share with you free helpful information on our products and services, business, marketing and personal development. Always dive in for more!
Our Contacts
Equatorial Shopping Mall, Suite 607
Plot 37/39, William Street, Kampala
Call: +256 - 703 - 779 889
WhatsApp: +256 - 772 - 327373
Email: info@golaserengraving.com