Engraved Access Cards are Unique and Forge-proof. No Doubt!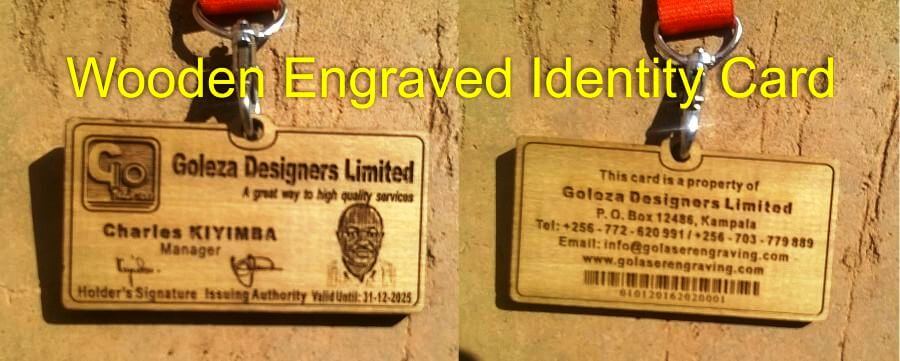 Engraved access cards are an innovation in Uganda pioneered by Goleza Designers Limited. We make these access cards out of local wood with deep and accurate engraving. Wood, like "Nkalati" and mahogany, when engraved, reveals a dark burnt permanent contrast that looks attractive. When the engraving is deep, the way we do it, the cards are excellent.
Our wooden engraved access cards are roughly the size of the standard debit card or a regular identification card. We make them from wood sheets of 6mm thick. The engraving on the cards is on both sides. We can supply them with customised polyester lanyards of the colour of your choice.
You can use these beautiful laser engraved access cards to allow physical access to buildings and controlled spaces. In Uganda, there are a good number of buildings whose access is controlled by simple paper cards. However, this works but to a specific limit. The disadvantage of such cards is that they are easy to forge. Secondly, they are short-lived. On the contrary, our engraved access cards are long-lasting and forge-proof.
What makes wooden engraved access cards forge-proof?
First of all, laser engraved access cards are rare in Uganda. They are expensive to make. One has to be with the technology, software and expertise to produce quality engraving. Secondly, they cost a lot of money compared to other types of cards.
Thirdly, the information we integrate into your engraved access cards makes it difficult for one to forge. We can include the following information:
♦  Etched photo/image
♦  Barcodes with hidden information
Recently, we made these engraved access cards for the Ministry of Lands, Housing and Urban Development. They wanted to control people's access to the land registry. We produced two samples: a wooden laser engraved access card and a PVC access card. They fell in love with these access card because of its beauty, uniqueness and security features.
We also make wooden identity cards. The only disadvantage with wooden IDs is that you cannot keep them in a wallet. They have a significant thickness. But they are so lovely for wearing in your neck. We use wooden IDs in our company, like the one you see in the picture above.
Do you have any feedback about our laser engraved access cards? Please use the comment section below to give your feedback.

Hello! My name is Charles Kiyimba, a creative engraver, a professional teacher, a passionate blogger, a confident graphic/web designer and the founder of Goleza Designers Ltd, an engraving business that turns images into real products. Through my hands-on experience, I share with you free helpful information on our products and services, business, marketing and personal development. Always dive in for more!
Our Contacts
Equatorial Shopping Mall, Suite 607
Plot 37/39, William Street, Kampala
Call: +256 - 703 - 779 889
WhatsApp: +256 - 772 - 327373
Email: info@golaserengraving.com