Acrylic Butterfly Key chains Are a Good Gift Idea on Special Occasions
One of our clients was looking for gifts to give to visitors at her introduction ceremony. She was explicitly interested in keychains that would fit in her budget. When she came to our workshop, she looked at the samples we hard and picked interest in the acrylic butterfly key chains.
What are acrylic butterfly key chains?
These are keychains we make from acrylic, a plastic-like material that comes in various colours. Engravers commonly use this material in engraving and producing engraved products like signage, labels, tags and much more. Our butterfly key chains are, therefore, keychains depicting the images of butterflies made from the acrylic material.
Why acrylic butterfly key chains are an excellent gift idea
People love butterflies worldwide because of their aesthetic, education, health, economic, ecosystem and scientific values. At Goleza Designers, we love them mainly for their artistic and economic benefits.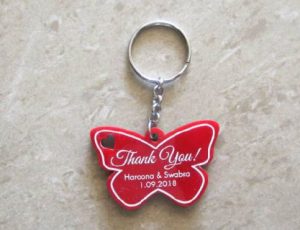 Aesthetically, butterflies are so colourful, and if you're an insect lover, you will enjoy looking at them. They can give you perfect ideas on the design and colour match of some of the things we use in our life. Because of their exciting look, we also came up with the idea of making colourful acrylic butterfly key chains. Using different colours of acrylic material, we craft these key chains to offer a variety of colours that butterflies naturally have.
Economically, we love them because they bring us income. Clients like them because of the values they attach to them. They are some of our bestselling keychain designs.
On which occasions can you use these acrylic butterfly key chains?
These key chains are a perfect gift for everyone on any occasion. Whether it's an introduction ceremony, wedding anniversary, Valentine's Day, birthday, graduation or any other event, butterfly key chains make good gifts everyone will love. You can personalise them with messages of your choice that suit your occasion.
Conclusion
If you're planning a special occasion and you are looking for something simple to give out as a gift, you will not regret it if you think about making key chains. They are a fantastic gift idea. Get in touch with Goleza Designers to craft for you beautiful butterfly key chains from acrylic.

Hello! My name is Charles Kiyimba, a creative engraver, a professional teacher, a passionate blogger, a confident graphic/web designer and the founder of Goleza Designers Ltd, an engraving business that turns images into real products. Through my hands-on experience, I share with you free helpful information on our products and services, business, marketing and personal development. Always dive in for more!
Our Contacts
Equatorial Shopping Mall, Suite 607
Plot 37/39, William Street, Kampala
Call: +256 - 703 - 779 889
WhatsApp: +256 - 772 - 327373
Email: info@golaserengraving.com