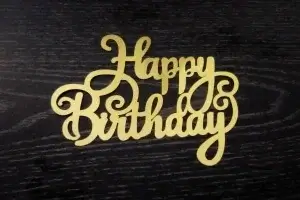 Living is a gift we all get from God. Your birthday is, therefore, a special occasion in your life worth commemorating. Many people celebrate their birthdays with cakes and lit candles to represent the food and light of life. They also adorn them with personalised birthday cake toppers which speak a thousand words.
Cutting birthday cake toppers from paper, wood, or acrylic is one of the services Goleza Designers offers to small businesses in the cake-making industry. We design, cut and deliver them to our customers all across Uganda.
Types of Birthday Cake Toppers
We offer three main categories of birthday cake toppers which include the following:
♦ Simple "Happy Birthday" message toppers
These are toppers we design and cut with only the "Happy Birthday" message. Since we already have the templates on our computers, when a client makes an order, we quickly produce them in the quantities needed.
♦ Year and "Happy Birthday" message combined
This type of birthday cake topper has the number of years (age) a person is celebrating integrated into them, i.e. "Happy 5th Birthday". When clients make an order, we design and share with them the artwork. We then produce the toppers upon the customer's approval.
♦ Name and "Happy Birthday" message combined
Toppers in this category are customisable with the person's name celebrating their birthday, i.e. "Happy Birthday Juliet". They're also not readily available because the customers' names keep changing with every client.
View Slideshow of Our Birthday Topper Designs
What Sizes Are Our Birthday Cake Toppers?
Usually, birthday cakes, on average, do not exceed 10 inches wide. Toppers are relatively smaller than the cake itself. The size of our birthday cake toppers varies from 4″ to 7″ depending on the cake size and the customers' desires.
How Do We Make Birthday Cake Toppers?
When we receive an order, we begin by making sample designs to share with you. At this stage, the most crucial element is selecting the perfect and appealing font type for the customer.
We prefer hand-writing or script fonts because they look elegant with cake toppers. When selecting the font, we focus on three essential elements: thickness, beauty and legibility.
The thickness of the font is essential because it makes the topper sturdy for it to stand upright. Secondly, the font must be beautiful enough to appeal to the client. And thirdly, it has to be readable for people to understand clearly the message.
The second step after selecting the right font is welding. The welding step involves joining one letter to another for us to cut the topper into one continuous piece.
The last step is to cut the cake topper using a laser engraving system. It's the best cutting tool for such intricate designs.
Final Thought
If you're in the cake-making business, you have to use toppers. You can partner with Goleza Designers to make for you not only birthday cake toppers but also toppers for other occasions.
To make your order, get in touch with us through our business contacts or visit our Goleza Shop to place your order online.